Amazon: The Monster Unleashed
Introduction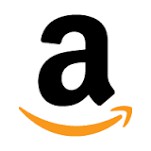 Amazon.com, Inc. (Amazon.com), incorporated on May 28, 1996, is an e-commerce company. The Company offers a range of products and services through its Websites. The Company's products, offered through consumer-facing Websites, include merchandise and content that the Company purchases for resale from vendors and those offered by third-party sellers. The Company offers its own products as well as third-party products across various categories, through its retail Websites and through its mobile Websites and applications. It also manufactures and sells electronic devices, including Kindle e-readers, Fire tablets, Fire TVs, Echo and Fire phones.
Multiples
Analyzing the Amazon stock price, one should understand that it's a risky to the core asset: the P/E ratio is unfathomably high (968.4, which the highest value amongst all companies in the market). Some may think that it's another bubble but there are premises for considering it not to be so.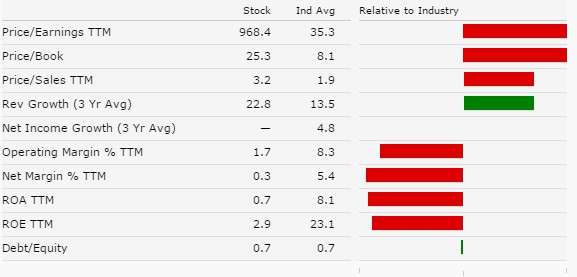 Source: Morningstar.com
Currently Amazon feels very comfortable under actual market conditions with revenues steadily growing Y/Y(Amazon generated net income of $79 millions in the Q3). The company has also been accumulating stockholders' equity and cash from operations(which is not less important).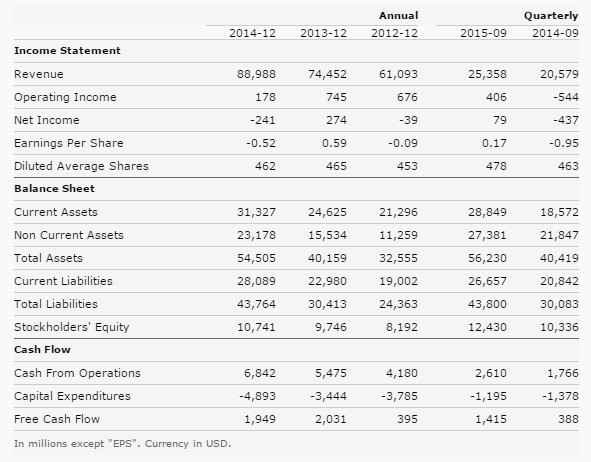 Source: Morningstar.com
Amazon Media business
We see Amazon's Media business to be remain one of the key drivers of revenues for the company as well as stock price, as the segment brings nearly 21% of its total revenues. The recent slowdown in revenues from this segment has been a source of concern for the investors, as the Media segment posted a Y/Y fall in revenues during the first two quarters of the current fiscal year. The importance of this business will continue to decrease later on due to the fact that Media business is already growing at a slower pace (not due to the possible decline).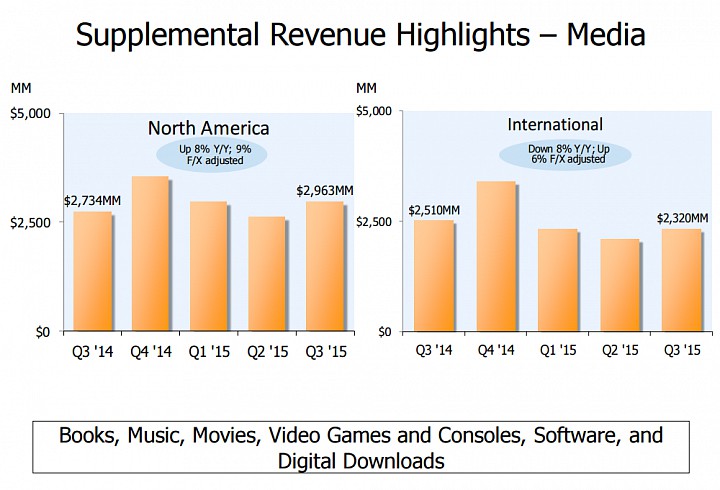 Source: Company's report
Amazon EGM business
Amazon's international expansion, particularly its expansion into emerging markets such as India is another core driver of growth for the company's EGM and stock price. The number of accounts registered in India went up by 200% relative to last year, sales are 3 times as high as last year. By the end of 2015, the number of units sold by Amazon in India will reach 40 000 per day. Another positive sign is 35% revenue growth in North America Y/Y. Considering EGM brings roughly 70% of revenues, it's not surprising why investors are positive about Amazon.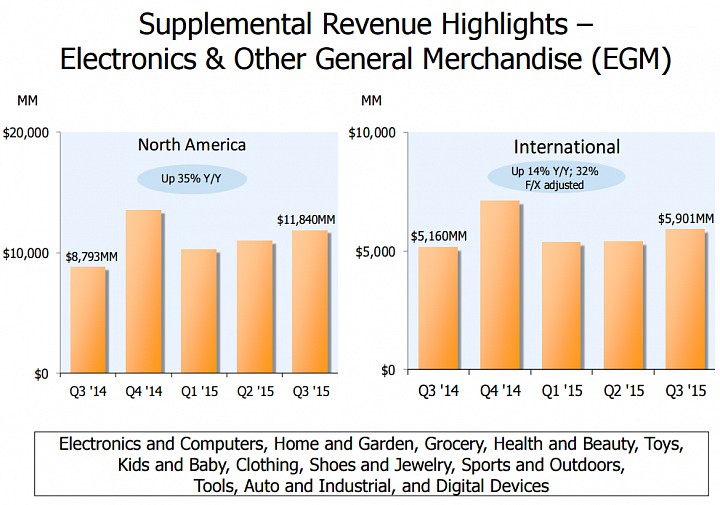 Source: Company's report
Amazon Web Service
Amazon Web Service is one of the most perspective segments of the company. AWS is a cloud platform, presented by the company in the beginning of 2006. AWS embraces such services as data storage, server rental, and processing capacities. This segment is best performing, considering revenues growth and net income/sales ratio.

Source: Company's 10-Q
Incredible growth can be explained by bright future of the cloud technology market in general. It's expected to grow by 100% during 2015-2018 period.

Source: TBR
Another positive piece of news is that developers are committed to AWS and there is possibly no way they can switch to another cloud provider in close future. Considering that, we can conclude that this segment has yet to grow.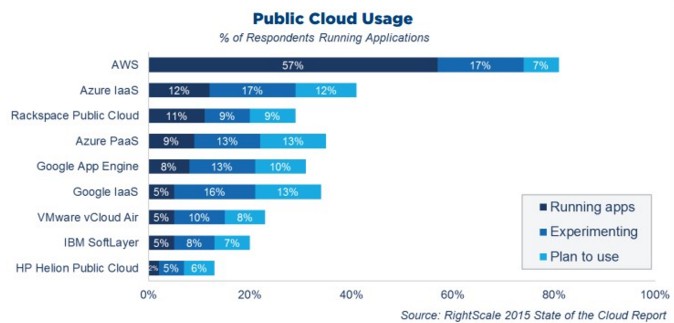 Source: Rightscale 20155 State of the Cloud Report
Technical observations
According to our observations, when the simple moving average is exceeded by 50$, slumps follow the road. At the moment, the shares price is going out of that corridor and growth pace continues to surge sharply. Giant growth often means terrible drop. From the technical point of view, risk takers may short sell Amazon during December-January.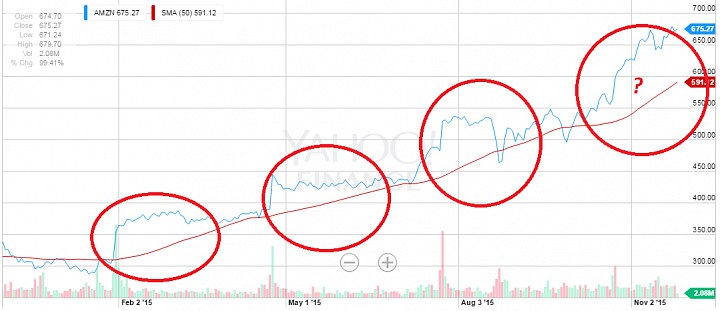 Source: Yahoo Finance
Black Friday
Two years ago, Amazon ran into trouble when a number of its packages arrived on December 26, the most disappointing time for a Christmas gift to arrive. The issues were mainly due to UPS not being able to handle a surge in orders amid harsh weather, but Amazon customers were still not happy. Last year's holiday deliveries went more smoothly, but to make sure this year doesn't see a repeat of 2013, Amazon is doing everything in its control to tighten its logistics efficiencies.
Therefore, all the clients are waiting the response of Amazon to another Black Friday mess. If delivery quality is improved, this may be a short term growth driver for the shares (yet it's very arguable).
Conclusion
On the one hand, the company has impossibly high P/E ratio with shares being overpriced according to technical analysis. Total assets are growing at the expense of respectively growing liabilities. On the other hand, Amazon is a best practice of this industry with business processes constantly improving: it's proved by ever growing revenues and net income in AWS as well as intent of changing the whole industry by introducing drones and big investments into various projects. We think that Amazon is a leader in monetizing its innovations. We recommend a long buy for investors aimed at benefiting from long term perspectives of the e-retail industry. However, we caution speculators against opening positions from now until the beginning of the following year as there may be market corrections.