Tenneco - Never too late to hold it
Introduction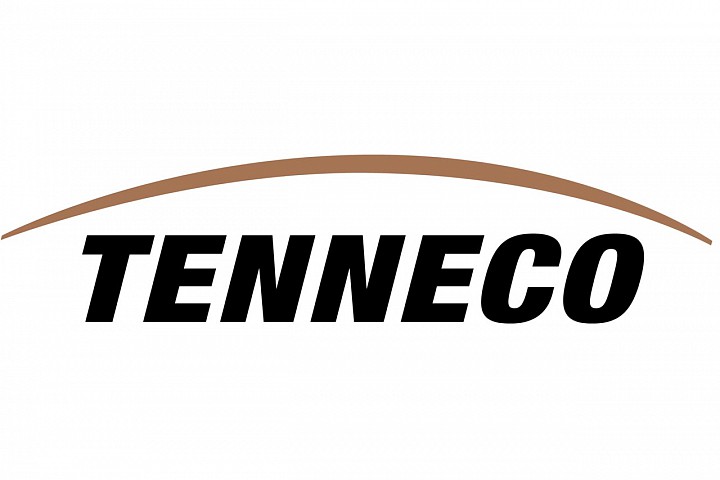 Tenneco Inc. (Tenneco), incorporated on August 26, 1996, is a producer of clean air and ride performance products and systems for light vehicle, commercial truck, off-highway and other vehicle applications. The Company serves both original equipment vehicle manufacturers (OEMs) and the repair and replacement markets, or aftermarket, across the world. The Company operates in six segments: North America Clean Air; North America Ride Performance; Europe, South America and India Clean Air; Europe, South America and India Ride Performance; Asia Pacific Clean Air, and Asia Pacific Ride Performance. The Company's various brands include Monroe, Rancho, Clevite Elastomers, Marzocchi, Axios, Kinetic, and Fric-Rot, Walker, XNOx, Fonos, DynoMax and Thrush clean air products. As a parts supplier, it produces individual component parts for vehicles, as well as groups of components that are combined as modules or systems within vehicles. These parts, modules and systems are sold across the globe to OEMs, commercial truck and off-highway engine manufacturers, and aftermarket distribution channels.
Performance
Having analyzed the company's multiples, we conclude that the stock is 17%/100% overpriced (judging by P/E and P/B respectively). Worth understanding, Tenneco has been actively increasing net income, and the P/S ratio shows that the stock is 100% underpriced. That being said, there are factors that say both against and in favour of picking the stock. In this case, we consider the P/E factor the predominant one.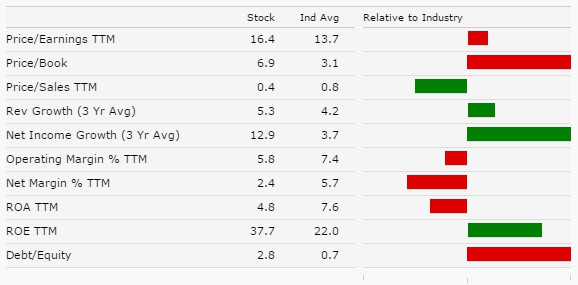 Source: Morningstar.com
Tenneco shows tremendous results in terms of revenue growth over the last couple of years, reducing only in 2008.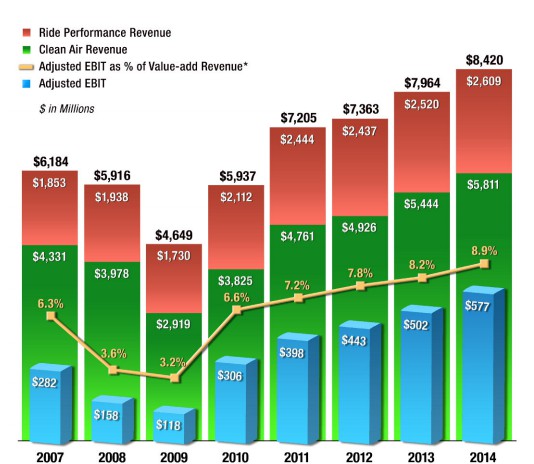 Source: Company's presentation
However, Tenneco experiencing difficulties due to clients' performance.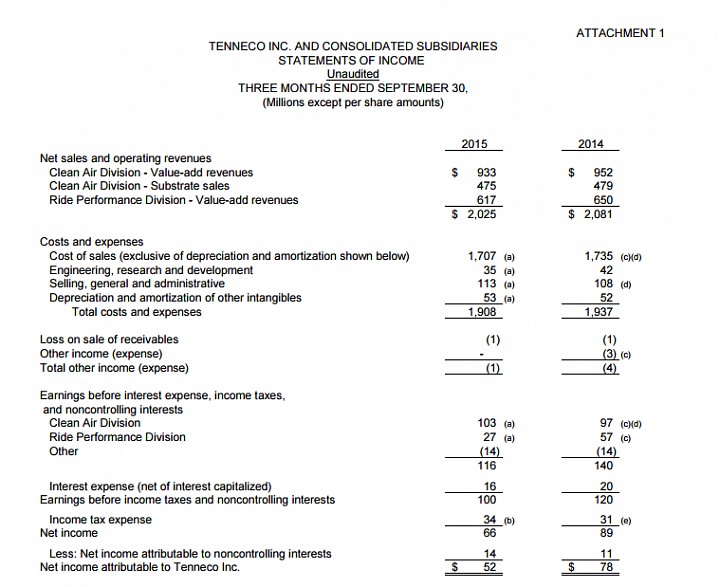 Source: Company's report
The main 2 customers are US companies GM and ford as well as Volkswagen (terribly shrinking due to financial and juridical problems). But we expect it to change by diversifying the clientele.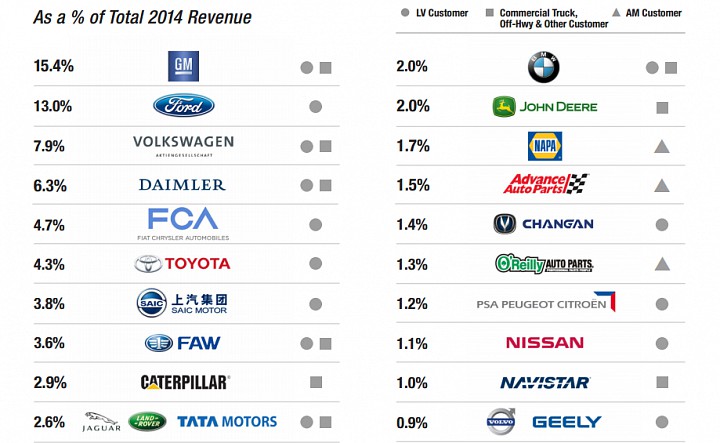 Source: Company's presentation
Operating activities decline made the shares price drop, though currently an upward trend may be observed.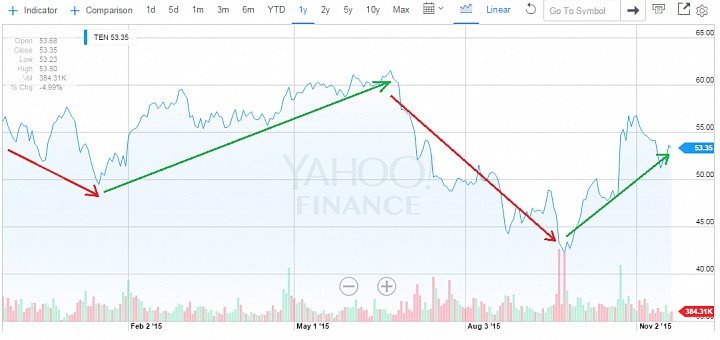 Source: Yahoo Finance
Based on current global industry forecasts and sequential improvement in customer production schedules in China, and excluding currency, Tenneco anticipates total fourth quarter revenue growth of 6%, resulting in full-year revenue growth of 5%. The company anticipates fourth quarter currency headwinds on revenues of approximately 5%. Global light vehicle industry production in the regions where Tenneco operates is expected to decrease 1% in the fourth quarter. The company is well-positioned to significantly outperform industry production with its balance across customers and platforms. Tenneco expects commercial truck and off-highway revenue to continue to significantly outpace the industry in the fourth quarter due to content growth, offsetting a significant portion of the ongoing industry production weakness. The company also expects solid year-over-year revenue growth from its global aftermarket business in the fourth quarter.
Technology
Tenneco is a technological leader in the industry and R&D development is a focus for the company, as budgeting for R&D has increased from $126 million in 2012 to $144 million in 2013 and $169 million in 2014. Through these investments, Tenneco has been able to produce breakthroughs such as diesel particulate filters (DPFs), able to reduce emissions of particulate matter by 90%, T.R.U.E. systems, designed to regenerate DPFs, and urea SCR systems for locomotive and marine engines. That being said, we expect the company's to move on implementing the recent scientific developments.
Management
The best thing about Tenneco is its management: in 2009, facing disastrous market conditions, Tenneco management froze pay increases, eliminated bonuses, and reduced all salaries by at least 10%. Executive compensation was reduced by an average of a whopping 70%. Ultimately, these drastic measures enabled the company to keep its head above water and paved the way for a massive recovery. This all says that investors' interests will be in the first place for the management.
Conclusion
We recommend to hold Tenneco as, according to our estimations, the share price price will increase. Though the company faces operating difficulties, there are reasons to believe in it (management, innovations, clientele diversification, price rebound).
Disclaimer
We are neither holding, nor planning to open any position. We are merely presenting our opinion, intended to be used in the WhoTrades Investment Strategy Contest.