Pleasent dialysis for American Renal Associates
Introduction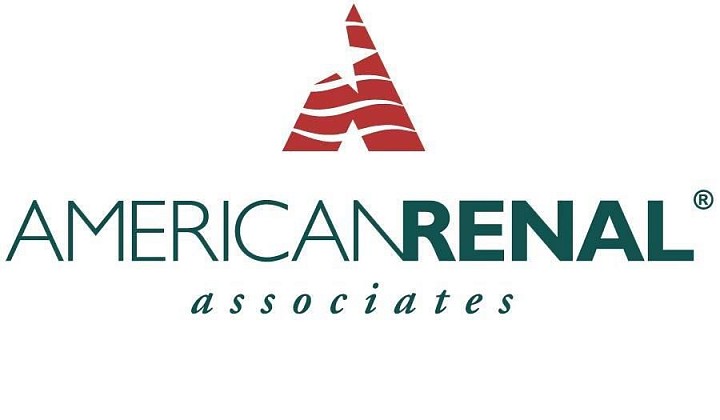 American Renal Associates is the largest dialysis services provider in the United States focused exclusively on joint venture partnerships with physicians. It provides high-quality patient care and clinical outcomes to patients suffering from the most advanced stage of chronic kidney disease, known as end stage renal disease (ESRD).
Competition
The dialysis services industry is highly competitive. Because of the lack of barriers to entry into the dialysis services business and the ability of nephrologists to be medical directors for their own clinics, competition for growth in existing and expanding markets is not limited to large competitors with substantial financial resources. According to CMS data, there were more than 6,450 dialysis clinics in the United States as of September 30, 2015. As of the end of 2012, according to the USRDS 2014 Annual Data Report, Fresenius Medical Care and DaVita Healthcare Partners Inc. accounted for 63.3% of dialysis treatments and 67.9% of dialysis patients in the United States. The largest not-for-profit provider of dialysis services, Dialysis Clinic, Inc., accounted for 3.4% of dialysis treatments and 3.1% of dialysis patients in the United States. Hospital-based providers accounted for 10.4% of dialysis treatments and 4.7% of dialysis patients in the United States, while independent providers and small- and medium-sized dialysis organizations, including our company, collectively accounted for the remainder. Since the time of the data reported in the USRDS 2014 Annual Data Report, consolidation has increased due to recent acquisitions, intensifying competition in the dialysis services industry.
Market
The market is subsequently expanding. According to the prospectus, since 2000, the number of ESRD patients in the United States has grown 3-5% annually and approximately 77% total over the last 14 years. With 692,268 patients in the United States with ESRD at the end of 2014, dialysis services represent an annual market of approximately $49 billion. However, a few pivotal factors such as the reduction in Medicare reimbursements to dialysis centers, low awareness about kidney diseases and their treatment modalities, product recalls, reuse of hemodialysis supplies, and poor reimbursement scenario in developing countries are hindering the growth of this market. Moreover, high competition among market players and low cost of kidney transplantation are the foremost challenges faced by industry players.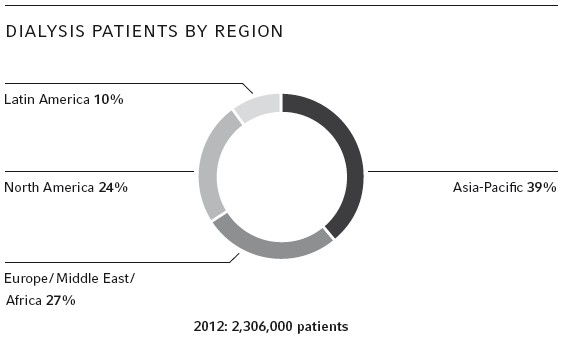 As we see from the chart, the US dialysis market is not as bulky as the Asia-Pacific one. Additionally, there is room for growth in other markets, if the company will consider operating on international scale.
Financials
ARA shows positive financials results: net income is constantly growing (with the exception of 2015, when the company suffered losses due to servicing its long-term debt). As of September 2015, ARA shows net income higher than the previous year, which leads to an overall increase of the net income in 2015

The company has liquidity. Total current assets exceed current liabilities by 80%. It can almost cover total short-term obligations with only cash and short-term investments.


ARA has huge long-term debts on its books, which equals $661 million. But it will be paid down only in 2019.


Considering stable performance and liquidity, we conclude that the company shows positive signs of increasing its revenue and net income later on
Growth opportunities
The company was established in 1999 and, at the moment, it operates 187 dialysis clinics in partnership with 341 nephrologist partners treating over 12,000 patients in 24 states and the District of Columbia. From 2012 to 2014, total number of treatments grew at CAGR of 14.8%, driven primarily by increases in non-acquired treatments, which grew at a CAGR of 10.1%. During the same period, revenues, Adjusted EBITDA-NCI and net income attributable to the company has grown at a CAGR of 15.3%, 12.8% and 34.5%, respectively. For the year ended December 31, 2014, revenues, Adjusted EBITDA-NCI and net income attributable to the company reached $563.6 million, $104.3 million and $16.2 million, respectively.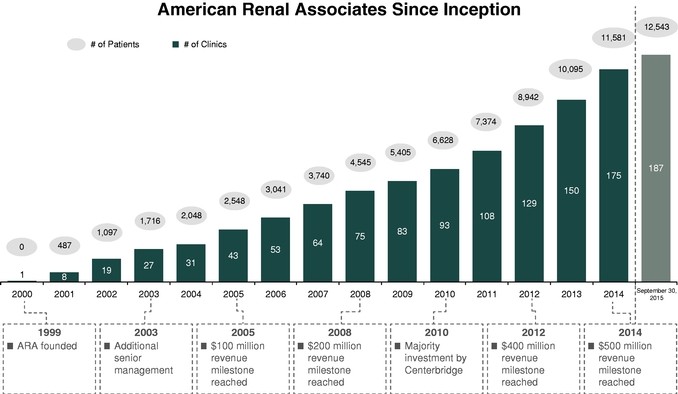 ARA operates the clinics exclusively through a JV model, in which they partner primarily with local nephrologists to develop, own and operate dialysis clinics, while the providers of the majority of dialysis services in the United States operate through a combination of wholly owned subsidiaries and joint ventures. Each of the clinics is maintained as a separate joint venture in which generally ARA has the controlling interest and nephrologist partners and other joint venture partners have a noncontrolling interest. As of September 30, 2015, on average the company held 55% of the interests in the clinics and the company´s nephrologist partners held 45% of the interests. The JV model proved itself to be a successful choice and we believe that it will preserve current growth, using this model.
Management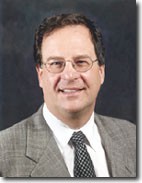 JOSEPH A. CARLUCCI - CEO
Joseph has more than 30 years of experience in the dialysis services industry and is the former President and CEO of Optimal Renal Care, a joint venture in disease management between Fresenius Medical Care North America (FMCNA) and Kaiser Permanente of Southern California. Prior to Optimal, Joseph was Vice President of Administration at Fresenius and responsible nationally for managed care, medical director relations, and facility development. He has considerable operations experience from Facility Administrator to Director of U.S. Operations. Joe received his B.S. degree in Accounting from Bentley College.
SYED KIMAL - PRESIDENT
Syed is the former President of Fresenius Medical Care North America's southern business unit, responsible for the complete management and oversight of more than 200 outpatient dialysis facilities. His more than 30 years of dialysis services experience began as a Facility Administrator in Louisiana and increased with a series of promotions covering U.S. and overseas operations. He previously served as Regional Manager of the Mid-Atlantic and Southeast regions (U.S.), Director and Vice President of Operations for International and later, Vice President of Operations, U.S., Canada and Mexico. Syed received his B.A. and M.B.A. degrees from the University of Punjab in Pakistan.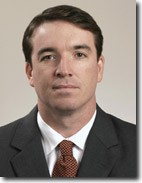 JONATHAN WILCOX - CFO

Jon has more than 13 years of experience in accounting and finance. His experience includes being Executive Director of Finance at Cynosure, a public medical device manufacturer, where he was primarily responsible for all worldwide financial activities. Prior to Cynosure, John was Director of Finance at Forrester Research, a public research company. Jon was also Vice President of Finance at Vlingo, a venture backed speech recognition software company. Jon was an audit manager at Arthur Andersen, in their Boston office, and is a CPA. Jon received his B.S. degree in Government and History from Centre College in 1995 and his Master of Public Accountancy and M.B.A. from Northeastern University in 1996.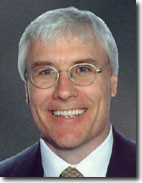 JOHN J. MCDONOUGH - COO
John has more than 21 years experience in accounting and finance. His experience includes being Vice President and Chief Accounting Officer at DaVita, the second largest provider of kidney dialysis, where he was responsible for accounting, financial reporting, and billing/collection, with a staff of several hundred people. Prior to DaVita, John was CFO at Palatin Technologies Inc., a public biotechnology company and MedChem Products Inc., a public medical device manufacturer. John began his career at KPMG Peat Marwick, in their Boston office, where he rose to the position of audit manager. John received a B.S. degree in Accounting from Bentley College in 1986 and his M.B.A from Harvard Business School in 1998.
Conclusion
We believe that the company's IPO will be launched successfully as:
It operates in a market with high growth, while showing stronger growth.
Its financials are healthy. The company covers its short-term obligations and shows constant revenue growth.
It operates under promising JV model.
Management has broad experience and competence to launch the IPO