Plum Creek: A bright future on the horizon
Introduction

Plum Creek Timber Company, Inc. (PCL), incorporated on Junc 5, 1998, is a private timberland owner in the United States. As of December 31, 2014, the Company owned approximately 6.6 million acres of timberlands located in 19 states. The company operates through segments: Northern Resources, Southern Resources, Real Estate, Manufacturing, Energy and Natural Resources, and Other. The Northern Resources segment, consisting of timberlands in Maine, Michigan, Montana, New Hampshire, Oregon, Vermont, Washington, West Virginia and Wisconsin. The Southern Resources segment, consisting of timberlands in Alabama, Arkansas, Florida, Georgia, Louisiana, Mississippi, North Carolina, South Carolina, Texas, and Virginia. Its Energy and Natural Resources segment includes natural resource businesses that focus on opportunities for oil and natural gas production, construction aggregates and mineral extraction, wind power and communication and transportation rights of way. Its Real Estate segment includes development of certain properties, internally and through joint venture arrangements.
Performance
Analyzing the company's multiples we conclude that it's overvalued relative to the peers, while having higher margins (what, in its turn, justifies overvaluation)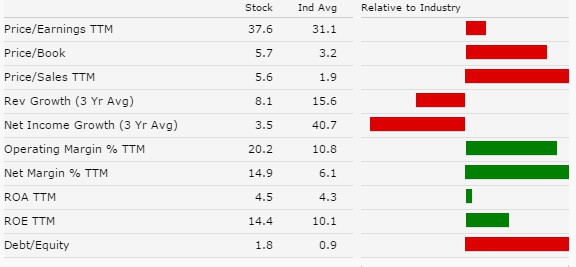 Source: Morningstar.com
The company shows a steady increase in all indicators suggesting a clear strategy, which focuses on the development of the company.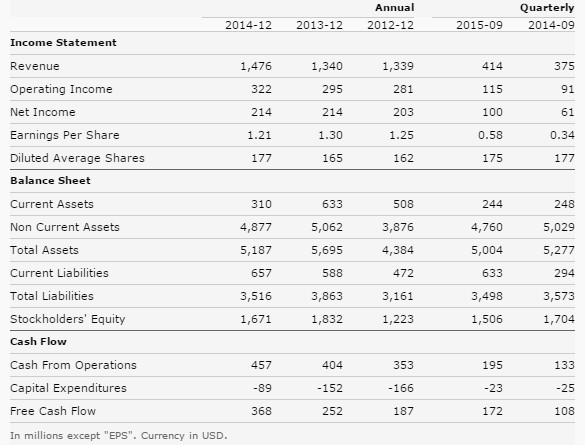 Source: Morningstar.com
The company got rid of some of the assets that are not essential to its strategy, letting real estate to show high margins.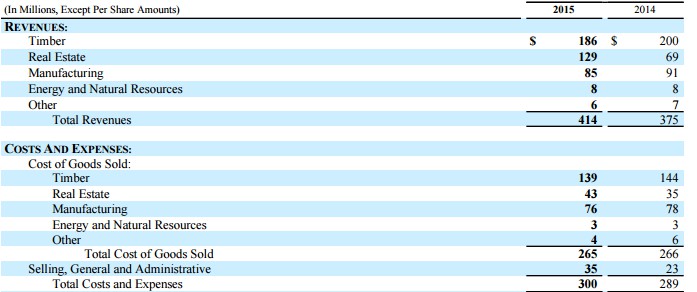 Source: Company's 10-Q
At the moment, the key business of the company is timber. It processes timber at its plants and sells it. Moreover, the company conserves timber as energy and natural resources and sells it as well. The land not suited for subsequent strategies is put on sale in order to focus on the main directions of the business
Lumber market conditions
The positive trend, which could push the company to growth, is the fact that, at the moment, the cost of lumber materials is low, thus showing an upward trend.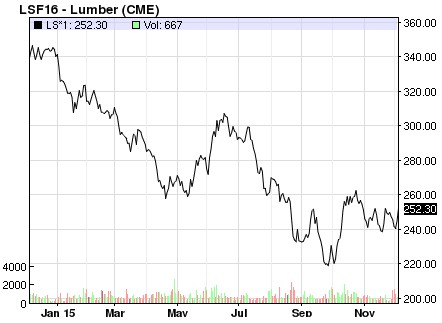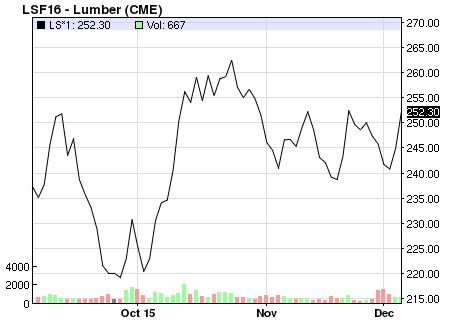 Source: NASDAQ
The market of timber has been doing pretty well since the financial crisis. Log prices, despite the surge in 2014 and 2015, are beginning to get closer to the ¨before-the-financial-crisis¨ prices, regaining its value. Yet the prices are volatile due to speculators willing to go short on any product which is somehow affected by falling Chinese demand and the stronger US dollar. While Chinese demand is still weaker than in 2014, facts remain that Chinese domestic production has yet to grow and demand will stand still as most Chinese demand is for low value products, such as pallets, crates, and low-end construction materials.
Establishing a mammoth
On November 8, 2015, Weyerhaeuser (WY) and Plum Creek (PCL) which are 2 major timber owners , announced a proposed merger, which is expected to come to fruition in Q1-Q2 of 2016. The ownership would be Weyerhaeuser shareholders owning 65% and Plum Creek shareholders owning 35% of the merged company. Other details of this transaction include a post-merger $2.5 billion share repurchase program, a strategic review of Weyerhaeuser's several business. The firms said they anticipate annual "cost synergies" of $100 million from the merger.
The newly merged company would own 13 million acres of productive timberland, with an estimated $23 billion equity market cap which will be bigger than the rest market cap of the industry
Diversified portfolio
In addition, the newly merged company represents a more diversified timberland portfolio, thus reducing risks. For example, while Plum Creek currently owns timberland in the Pacific Northwest, Lake States, New England, and the Southeast, its portfolio has less exposure to timber export markets (primarily exports to China, South Korea, and Japan) as compared to Weyerhaeuser's portfolio. In addition, a Plum Creek shareholder (who will swap for Weyerhaeuser's stock) also obtains its pro-rata future share of the above stated $100 million annual synergies.
Dividends
WY intends to keep its dividend at the current rate after the merger. Moreover, it expects the deal to be accretive to funds available for distribution in year one. In other words, there's no reason to think the dividend will be at risk because of the acquisition. PCL shareholders who hold through the close of the deal will benefit from a dividend increase of around 13%. That's not bad considering that PCL's average annual dividend increase over the past three years has been around 1.5%. For reference WY's average annual dividend increase over that span was around 20%.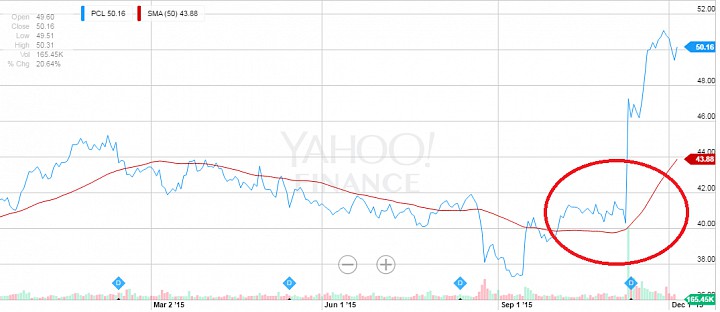 Source: Yahoo Finance
The market reacted joyfully the information on the merger and benefits for PCL shareholders came out.
Conclusion
We recommend to buy shares of the company, as the company shows good margins and a clear commitment to the strategy by getting rid of the assets that are not a part of the strategy. Other growth drivers are condition of the lumber market and merger deal with Weyerhaeuser, which should take place at the beginning of 2016 and which positive effect on growth of stock company price.