Gilead Sciences: Piles of cash
Introduction

Gilead Sciences, Inc. (Gilead), incorporated on June 22, 1987, is a research-based biopharmaceutical company that discovers, develops and commercializes innovative medicines. The company's primary areas of focus include human immunodeficiency virus (HIV), liver diseases such as chronic hepatitis C virus (HCV) infection and chronic hepatitis B virus (HBV) infection, oncology and inflammation, and serious cardiovascular and respiratory conditions.
Performance
The multiples analysis shows that the company's stock is hugely underpriced. Judging by the P/E ratio, its value is 4 times as low as average of the industry. (P/S is 1,5 lower relative to the industry). Gilead outstands by showing enormous revenue growth, high marginality and enticing ROE and ROA.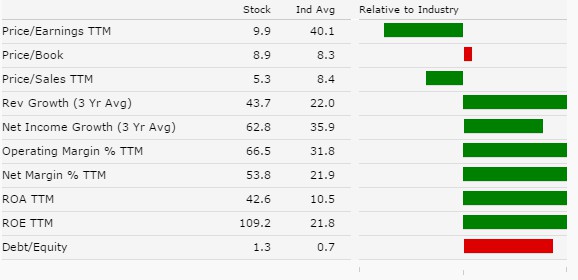 Source: Morningstar.com
The above mentioned growing revenues are a result of the new high margin products launch which rapidly became market hits.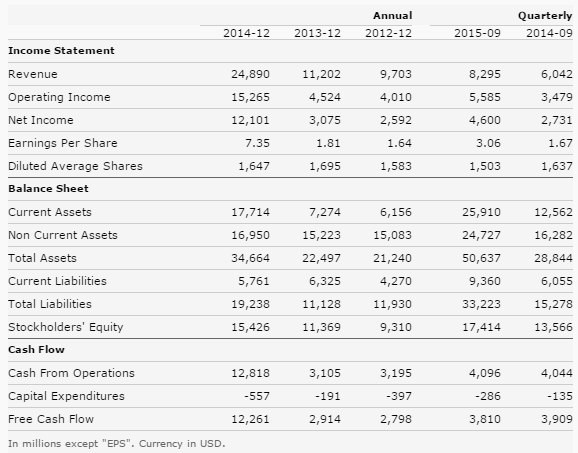 Source: Morningstar.com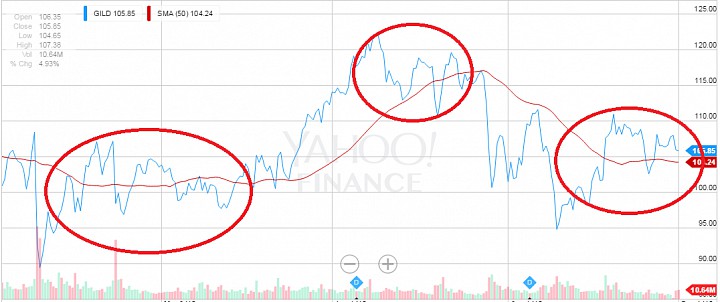 Source: Yahoo Finance
Looking at the stock chart, we can trace stable stock performance in the first quarter, followed by a second quarter boom due to outstanding quarterly report, showing growth. After that, the shares experienced a sharp slide (as almost all shares did) due to panic feelings in the Chinese markets and demand contraction. At the moment, the company regained a price of 105-108$ per share, just like before rise-and-fall period. By the end of the year, they are expected to go up, escaping this price corridor.
We believe, that Gilead will generate even higher revenues as it possess innovative technologies and produce a vast range of high-demand products for narrow group of people (institutions).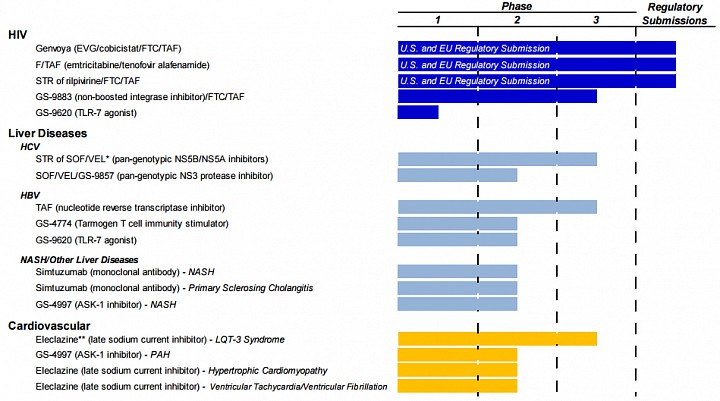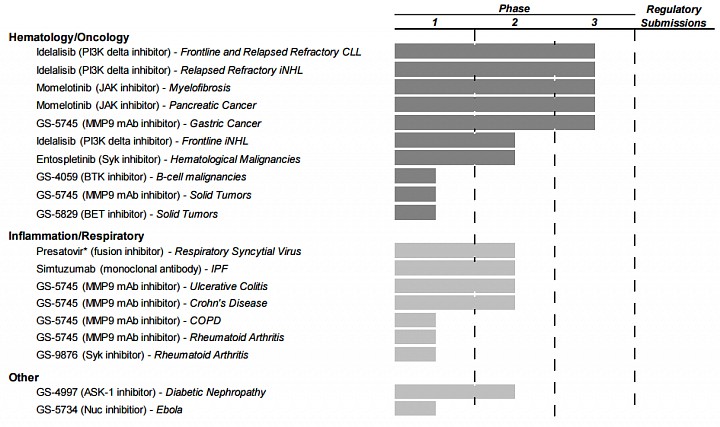 Source: Company's report
Additionally, Gilead is a sensei of launching new products. The sales of its benchmark product Harvoni rose up to $3,3bln in the Q3 of 2014 from $20mn in the Q1 says a lot about Gilead's growth opportunities.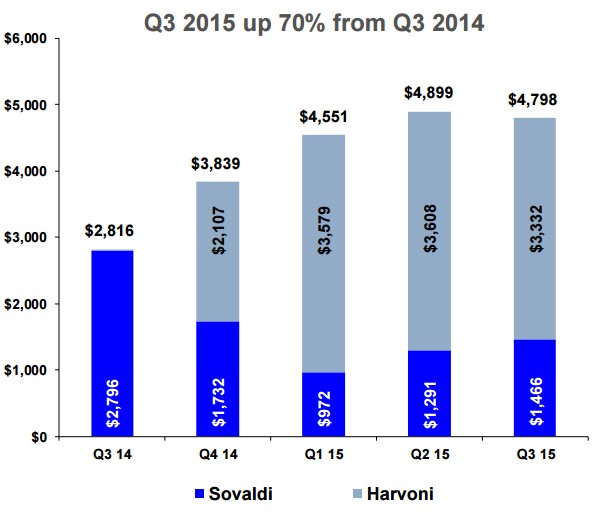 Source: Company's report
On board of Europe
Europe seems like the next destination and a new growth driver for Gilead Sciences and its shares. The company expects that Euro countries will allocate more money each year to hepatitis C, and the remainder of potential patients will have to wait for future years. This will result in a decent revenue flow coming in to the company from Europe for years to come. The latest figures show that 80,000 Europeans have started taking Gilead hepatitis C drug, generating nearly $3 billion in revenue from the beginning of 2015. When including the 32,000 hepatitis C patient count of 2014, it is estimated that Gilead has treated 112,000 people in Europe. The number of clients suffering from hepatitis C is roughly 9 million which open floor to continuous sales and revenue growth. And only 1,3% of all infected people in the world are treatied by the Gilead's drugs. The Gilead's drugs have already been approved by the authorities of such countries like Sweden and Austria.
Climbing emerging markets
In the third quarter of 2015, the company decided to increase its presence in the developing markets. Data provided by the World Health Organization estimates that in April 2014, there were about 185 people infected with HCV in the world.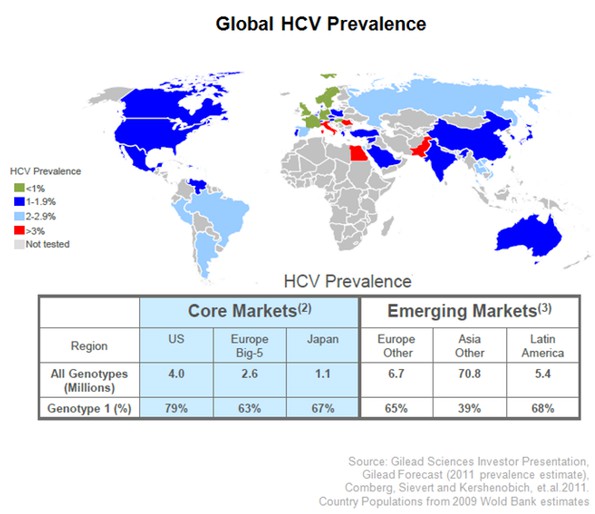 Source: Company's presentation
From the graph we can see that the US, Europe (Big 5) and Japan have a genotype 1 carrier rate of 79%, 63% and 67%, respectively. When comparing these to other less developed European countries as well as Latin America, we see similarly high rates of 65% and 68%, respectively. The above data shows how the HCV is highly prominent in emerging markets as well as in core, developed markets, which means that the company's has equal opportunities to develop in both markets. Gilead's Harvoni, a combination of Sofosbuvir (sold separately as Sovaldi) and Ledipasvir, is already the top choice for genotype 1 of the hepatitis C virus, especially for patients without severe liver damage. The company's shares regain its price very rapidly which means that investors are sure that the company as its shares will grow one way or another due to the quality and affordability ($84,000 for a 12-week course).
Moreover, the biotech giant has entered into licensing arrangements with 11 Indian companies to manufacture HCV drugs. These drugs will be distributed in 101 developing countries that have more than 100 million people suffering from HCV. In addition, GILD has announced a label expansion for Harvoni in the U.S. With the label expansion, the drug can now be used for the treatment of patients with chronic HCV genotypes 4, 5 and 6 infection and in patients co-infected with HIV.
A cardiovascular driver
We believe that another driver for the company's subsequent growth will be Gilead's current best-selling cardiovascular drug, Letairis, which managed to receive an additional label expansion from the Federal Drug Administration. On October 2, the agency approved a new combination treatment option using Letairis and tadalafil for pulmonary arterial hypertension (PAH), condition characterized by high blood pressure in the lungs. In clinical studies, using Letairis and tadalafil together reduced the progression of PAH by almost 50% when compared to using either therapy alone. This drug brings only a tiny portion of all revenues but investors should tek notice of the new area and driver for Gilead.
Increasing investors' wealth
Massively successful new hepatitis C and cardiovascular drugs have led to a surge in Gilead Sciences' cash stockpile, and that's given the company plenty of financial firepower to reward investors. In fact, as of earlier this year, Gilead Sciences is the only one of these three companies in the industry to boast a massive buyback program and to pay a dividend. Gilead Sciences announced its $15 billion, five-year buyback program, and instituted its first ever dividend in February at around the same time it completed last year's $5 billion buyback plan sooner than expected. The company's new $15 billion authorization expires in five years, but Gilead Sciences could accelerate that timeline, because in the past two quarters, the company has already spent $4 billion buying back its stock.
Conclusion
We recommend to buy the shares of Gilead Sciences as it's highly undervalued. The revenue and net income growth bewilder. We see these company as a market leader due to the pace of expansion and high quality of the products. Moreover, not only it can produce a hit, but also receive an approval and sell it. It's a good pick for a long investor.