Turning Point Brands: A Tale Of Risk And Ambiguity
Introduction
On the 5th of November Turning Point Brands has filed for an IPO seeking to amass $100 million.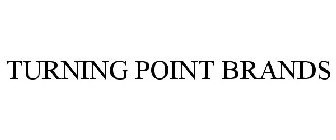 Turning Point Brands (TPB) is one of the leading producers of other tobacco products (OTP) in the United States. The company sells a wide range of products across the OTP spectrum, including moist snuff, loose leaf chewing tobacco, premium cigarette papers, make-your-own (MYO) cigar wraps and cigar smoking tobacco, cigars, liquid vapor products and tobacco vaporizer products. The portfolio of brands includes some of the most widely recognized names in the OTP industry, such as Zig-Zag, Beech-Nut, Stoker's, Trophy, Havana Blossom, Durango, Our Pride and Red Cap.
Turning Point currently ships to in excess of 900 direct wholesale customers with an additional 240 secondary, indirect wholesalers in the United States that carry and sell these products. As of July 11, 2015, the products are available in over 176,000 U.S. retail locations, which, with the addition of retail stores in Canada, brings the total North American retail presence to an estimated 200,000 points of distribution.
A pond teeming with competitors
The OTP industry is overfilled, placing TPB after such competitors as Altria Group , Reynolds American , Swedish Match, Swisher International, Imperial Tobacco Group. The company does not sell cigarettes. It competes with them compete in three distinct markets within the OTP industry: the smokeless products market, which includes loose leaf chewing tobacco and moist snuff, the smoking products market, which includes cigarette papers, MYO cigar wraps and related products as well as cigars, MYO cigarettes and traditional pipe tobacco, and the new generation ("NewGen") products market, which includes liquid vapor products, tobacco vaporizer products. Despite the company's moderate scales, it managed to establish a portfolio of leading brands that are widely recognized by tobacco consumers. The most recognizable brands are Zig Zag, Beech-Nut and Stoker's which generated $175 million in 2014.
Brands' stats:
Zig-Zag is the number 1 cigarette paper brand in terms of retail dollar sales in the U.S. according to Nielsen Convenience and the #1 MYO cigar wraps brand.
Stoker's is the number 2 leaf chewing tobacco brand and among the fastest growing brands in the industry
Beech-Nut is the number 3 premium chewing tobacco brand

Rising over the cigarette industry
Globally, the cigarette manufacturing industry continues to battle an assault on its growth prospects. Rising consumer health consciousness has hit smoking rates in developed and emerging markets, putting breaks on global industry growth rates. That said, the sales of cigarettes and suchlike smokable products have been declining for couple decades with expectations of following this tendency later on, based on data published by the Alcohol and Tobacco Tax and Trade Bureau.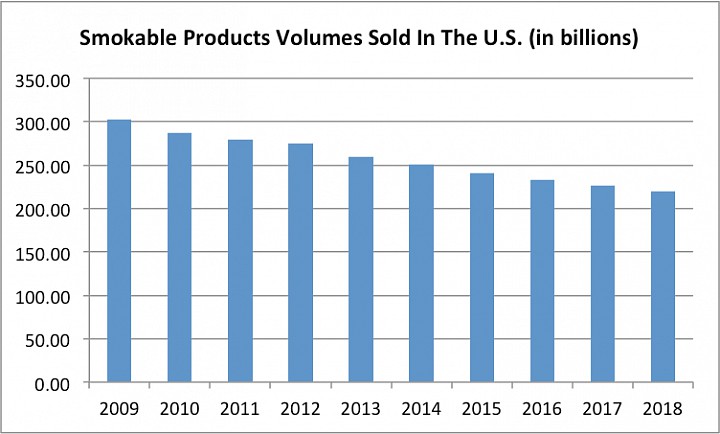 But tobacco is still addictive. The OTP market is rising and demonstrating increased consumer appeal: consumer OTP units shipped to retail have increased by 2% from 2013 to 2014. Additionally, the OTP industry is expected to generate more than $10 billion in 2015. This market is characterized by non-cyclical demand, relative brand loyalty, consistent profit margins, and the ability to generate consistent cash flows. In addition, the smokeless and smoking products markets have meaningful barriers to entry as a result of, among other things, applicable regulation, and relatively defined channels of distribution. In contrast to the traditional cigarette market, the OTP industry has areas of significant growth, such as for moist snuff, liquid vapor products and cigarillo cigars.
Sectional view of tobacco industry in the U.S. according to the Centers For Disease Prevention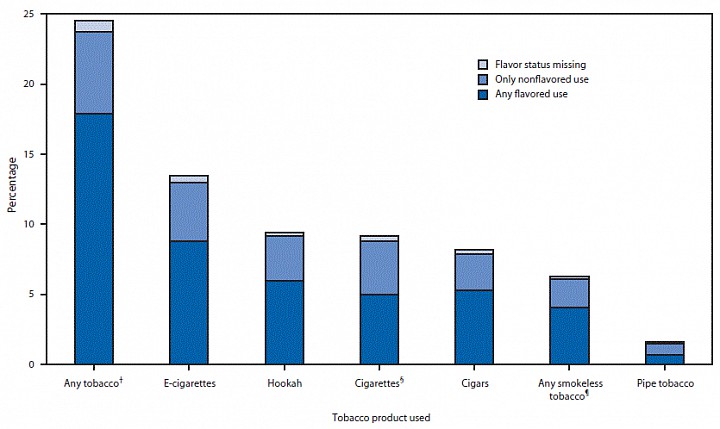 No euphoria from the financials
As we can see, the revenue growth is moderate with a CAGR of 2,5% during 2012-2014. After nine months of 2015, revenues are even declining by 1%, compared to the same period of 2014. Despite the increasing gross profit and the first positive net income since 2012, the company grows at a lower pace than the industry (4%), which does not make Turning Point more enticing than other companies.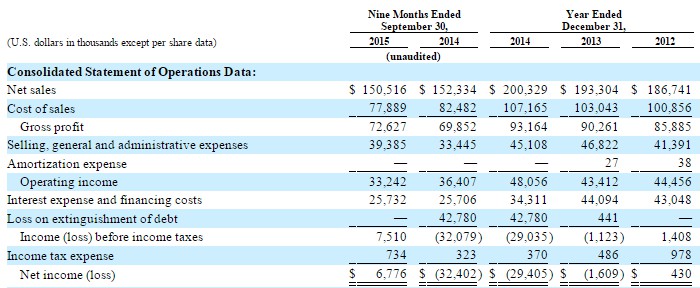 Another notable row (which immediately strikes one's eyes) is Notes payable and long-term debt. The company is overburdened with debt which equals to $304,5 million. Nevertheless, TPB seems to be able to cover its short-term liabilities without significant delays (Acid-test ratio - 1,15 ; Cash ratio - 0,4 - the highest in the industry). We believe that the company goes public in order to pay down its debts and to have a positive book value.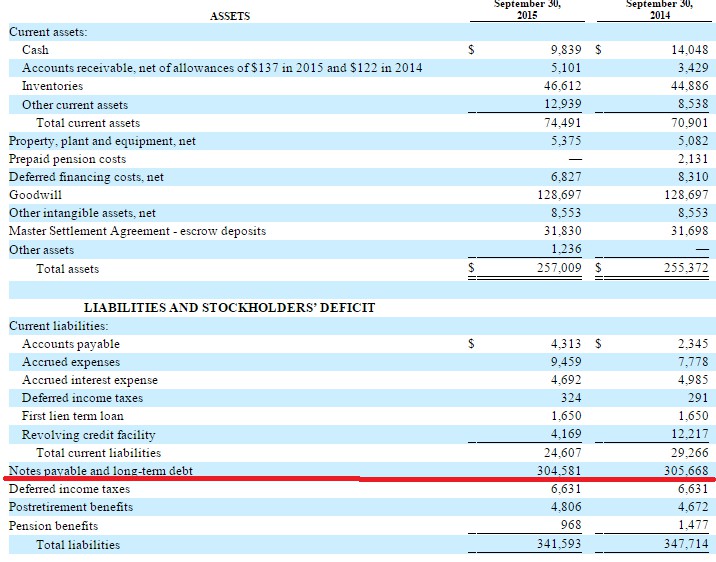 Compared to the industry, the company has a lower net profit margin (4,5% against 13%) which does not say in favour of TPB.
Investors can trust these buckaroos
¨When a management with a reputation for brilliance tackles a business with a reputation for bad economics, it is the reputation of the business that remains intact¨ - Warren Buffett
With an average of 23 years of consumer products experience, including an average of 19 years in the tobacco industry, the company's senior management team has enabled TPB to grow and diversify the business while improving operational efficiency. Members of management have previous experience at other leading tobacco companies, including Altria Group, Inc. (formerly Philip Morris), Liggett & Myers Tobacco Company (now Liggett Group, a subsidiary of Vector Group ltd), Swedish Match, American Brands, Inc., and U.S. Smokeless Tobacco Company (a subsidiary of Altria). Notably, Lawrence Wexler, CEO, brings over 20 years of experience from Altria Group, Inc., where he held various leadership positions within the finance, marketing, planning, manufacturing and sales departments.
Switching to electronic smoking devices and NewGen tobacco products may drive the company's growth
We believe e-cigarette business (with a projected market size of $10 billion in 2017) is one that TPB should rely on and develop. With this market growing by triple digits almost every year, it is no wonder that it will generate a lot of cash for the company. Although the market is still relatively small compared to the normal cigarette market ($2.7 billion vs. $80 billion), it is still causing concern to the big tobacco players, as the growth of the market does not look like it will stop and they are not prepared for this growth. In this situation such relatively small companies as Turning Point Brand should stand out.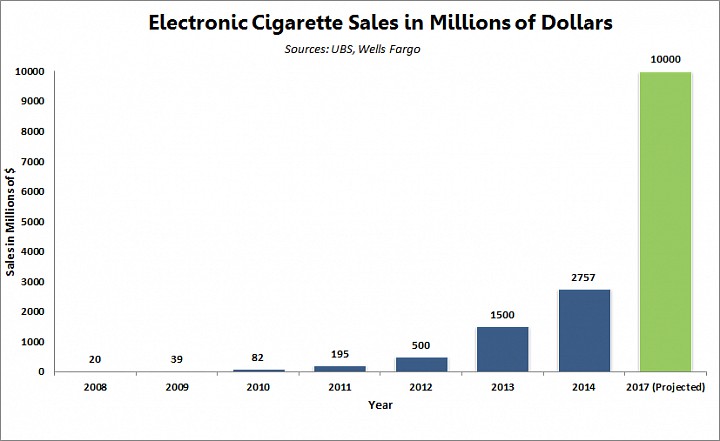 In 2013 TPB followed the emerging trend and contracted VMR, which began providing the company with the supply of V2 branded electronic cigarettes, e-liquids, and vaporizers in the U.S. According to the company's estimates V2, is now the #5 e-cigarette brand. (7% market share). Following the NewGen strategy, the company intends to introduce herbal smoking products and shisha-related products, containing no nicotine.

As we can see from the table, the share of NewGen products in net sales increased by 2,5% in 2013 to 10% in 2014. Meanwhile, the ever-decreasing demand for cigarettes begot the sales drop by 6% (from 60% in 2013 to 54% in 2014). In our opinion, in order to fully seize the opportunities of e-cigarettes business, the company should maintain its outsourcing strategy and improve the quality of V2s.
TPB is pretty good if the word ¨risk¨ is not in your vocabulary
As we've already mentioned,
Sales of tobacco products are generally expected to continue to decline.As a result of restrictions on advertising and promotions, increases in regulation and excise taxes, health concerns, a decline in the social acceptability of tobacco and tobacco-related products, increased pressure from anti-tobacco groups and other factors, the overall U.S. market for tobacco products has generally been declining in terms of volume of sales, and is expected to continue to decline. Specifically, the market has experienced annual declines in sales in terms of pound volumes of loose leaf chewing tobacco products for over a decade, and for the past five years the loose leaf chewing tobacco market declined approximately 6% per year in pounds sold. The smoking and smokeless tobacco products comprised near 90% of total company's 2014 revenues and, while some of sales volume declines have been offset by higher prices or by increased sales in other product categories, there can be no assurance that these price increases or increased sales can be sustained, especially in an environment of increased regulation and taxation and changes in consumer spending habits.
2. The tobacco products are subject to ever-increasing national and international regulation. The tobacco industry has been under public scrutiny for over fifty years.
The most recent tobacco act was adopted in 2009. The Tobacco Control Act granted the FDA more broad regulatory authority over the design, manufacture, sale, marketing and packaging of tobacco products. On an international scale the main document is The World Health Organization's Framework Convention on Tobacco Control ("FCTC"). It is the first international public health treaty that establishes a global agenda to reduce initiation of tobacco use and regulate tobacco in an effort to encourage tobacco cessation. Over 170 governments worldwide have ratified the FCTC.
3. The company has a huge amount of indebtedness. Although TBD seems to be able to cover current liabilities, it has $300 million of long-term which needs to be paid down. IPO implies receiving $100 million which means that the rest $200 million will still be due.
Conclusion
There are many reasons to forgo buying the shares of Turning Point Brands. The company operates under tough competition, has a huge amount of long-term debt. Also, the tobacco industry is skating on thin ice. Being relatively small and operating under constant regulation will make it very hard to survive. The main growth driver for the company and source of cash is shifting customers´ preference towards nicotine-free smoking products and e-cigarettes.