Goodyear: Good Years Ahead
Introduction
The Goodyear Tire & Rubber Company is a global manufacturing company founded in 1898. Goodyear manufactures tires for automobiles, commercial trucks, light trucks, SUVs, race cars, airplanes, farm equipment and heavy earth-mover machinery. The company operates in four segments: North America; Europe, Middle East and Africa (EMEA); Latin America, and Asia Pacific. The North America segment is a supplier of tires to manufacturers of automobiles, motorcycles, trucks and aircraft. The EMEA segment is a supplier of tires to vehicle manufacturers across the region. The Latin America segment manufactures and sells automobile and truck tires. The Asia Pacific segment sells primarily Goodyear brand tires throughout the region and also sells the Dunlop brand in Australia and New Zealand. The company manufactures and sells tires under the Goodyear, Dunlop, Kelly, Debica, Sava and Fulda brands and various other Goodyear owned-house brands, and the private-label brands of certain customers.
Performance
Goodyear experienced 7 quarter-on-quarter revenue decreases during 2013-2015, which were begotten by a sales slump (from 180m units to 160m units).

Source: Table made by authors, based on data from Amigobulls
However, we believe that the drop in revenue doesn't say really much in this case: net income and dividend yield are steadily growing, building shareholder's wealth. Significant increase of net income in the 4th quarter of 2014 was driven by net income tax benefits due primarily to the release of substantially all of the valuation allowance on net U.S. deferred tax assets and to higher segment operating income.

Source: Table made by authors, based on сompany's reports
We сonsider Goodyear a bumper crop for those who are seeking long-term growth due to a number of reasons. The company is probably the most innovative one within its industry. In January 2015 Goodyear launched a first-ever online tire shop, moving away from Amazon (due to unsatisfactory delivery timing, which, as the officials said, may hurt customer's perception of the company).
According to the latest available data, Goodyear has a biggest market share, outstripping Michelin, Bridgestone, Yokohama, Kumho.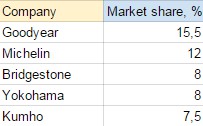 Source: Table made by authors, based on data from Modern Time Dealer
The key strategy of the company is to make use of the latest developments in order to focus on delivering premium-quality tires. Goodyear will cut down the production of low value added tires, giving space the high value-added ones (HVA). A high value-added tire is more complex to manufacture than a low value-added tire. There's no accepted definition for a high value-added tire, but The Goodyear Tire & Rubber Company defines it as having additional tread compounds (silica), reduced sidewall height, premium speed ratings, diameters greater than 17 inches, and several more attributes.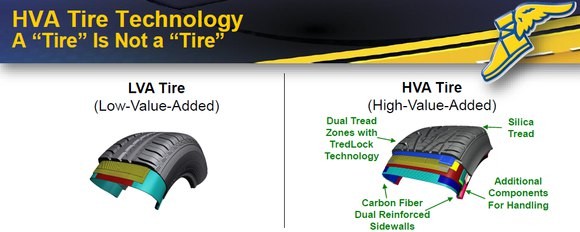 Source: Deutsche Bank Leveraged Finance Conference presentation
It will build a new tire factory in San Luis Potosi, Mexico to serve its customers in the Americas. The new factory, combined with investments in its existing U.S. and Canadian factories, will enable Goodyear to meet the strong and growing market demand for high value-added consumer tires in North America and Latin America. Industry demand for HVA tires in these regions is expected to increase by 10 million tires per year from 2014-19, owing to North America.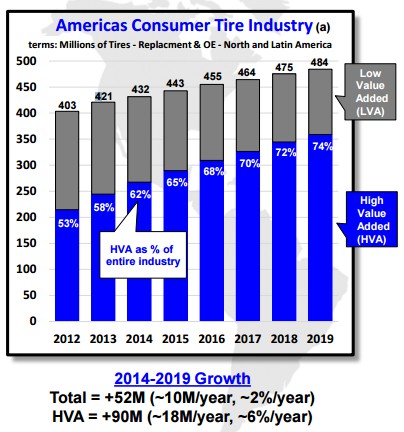 Source: Deutsche Bank Leveraged Finance Conference presentation
As a bonus, the Goodyear's shares are good at a rapid recovery, which normally means that a company is stable and provide certainty. The average recovery time lies within 5-8 days range.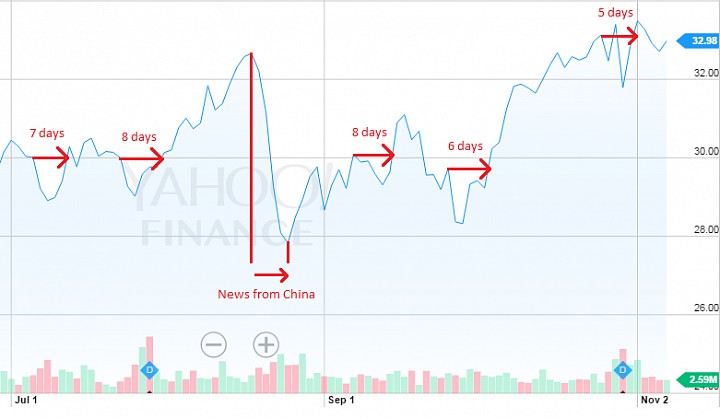 Source: Yahoo Finance
Conclusion
We see Goodyear as a BUY since there are no premises for the price decrease in the long term. The company is good at smoothing market volatility. Goodyear is expected to be at the wheel of the US market during following the following 4 years through innovating and preserving market share.
Disclaimer
We are neither holding, nor planning to open any position. We are merely presenting our opinion, intended to be used in the WhoTrades Investment Strategy Contest.