MasterCard: Priceless Opportunities
Introduction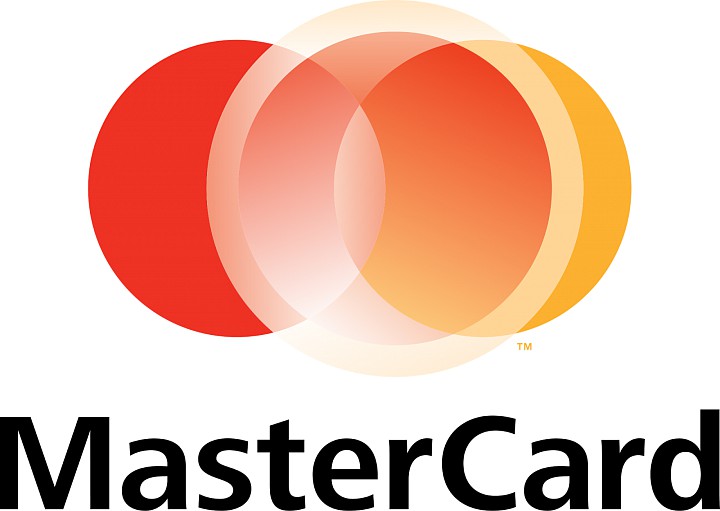 MasterCard Incorporated, incorporated on May 9, 2001, is a technology company in the global payments industry. The company connects consumers, financial institutions, merchants, governments and businesses around the world, enabling them to use electronic forms of payment instead of cash and checks. The company's brands include MasterCard, Maestro and Cirrus. It provides offerings, such as loyalty and reward programs, information services and consulting. The company focuses on segments, including Government programs, such as Social Security payments, unemployment benefits and others; commercial programs, such as payroll, health savings accounts, employee benefits and others, and consumer reloadable programs for individuals without formal banking relationships and non-traditional users of electronic payments
Performance
At first sight, MasterCard is overvalued, but it's worth understanding that the company is showing high net income growth pace.
Source: Morningstar.com
Moreover, we should follow the dynamics of the company's multiples. The P/E ratio didn't drop below 22.5 over the last 4 years, being in 27.5-29 range.

Source: Ychart.com
Additionally, in order to interpret multiples adequately it's worth tracking the ones of competitors. In case of MasterCard, ¨Industry Average¨ doesn' t work as it has the only visible and global competitor - Visa. The Visa's P/E ratio is currently 31, the same value as MasterCard's.

Source: Ychart.com
MasterCard is a very attractive stock as it's showing constant Y/Y revenue, net income, EPS growth without sharp changes in assets and liabilities.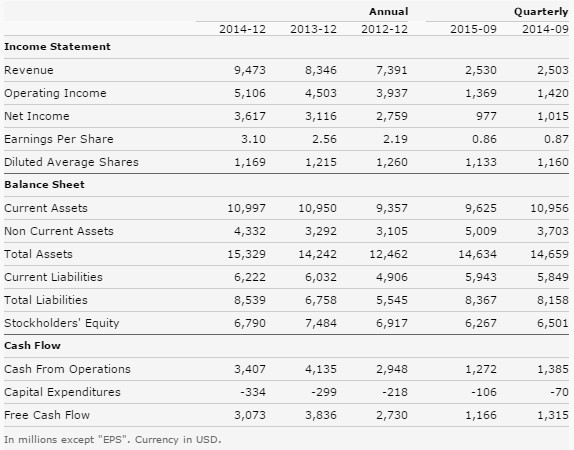 Source: Morningstar.com
Generally, the stock price is very stable and has been showing growth for the last 5 years without major fluctuations, which is explained by the global nature of this business. MasterCard is increasing the number of transactions processed and there is no tendency for its surge.
Source: Yahoo Finance
Growth drivers
The main growth driver for MasterCard will be foreign growth particularly owing to China. Before this year, China did not allow foreign transaction companies to process payments domestically. All transactions were processed through the monopoly, UnionPay, which is run by the government. Earlier this year, however, the government announced the opening of this market which will allow foreign companies, like MasterCard and Visa, to process payments in China. As of now, MasterCard processes 48% of total card transactions in the foreign markets. The company continues to expand their presence by actively engaging in deals with domestic and, increasing the number of cards issued and processed which, in its turn, means more revenues coming in. MasterCard currently has about 40% market share in Europe, which will continue to grow with average growth pace of 13-15%. Another potential growth driver is payments via Apple. This will be a gamechanger in how consumers pay across the globe.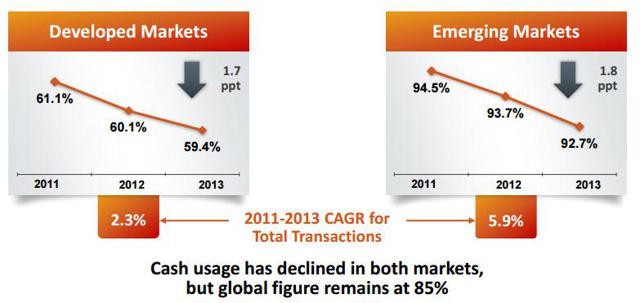 Source: Company's report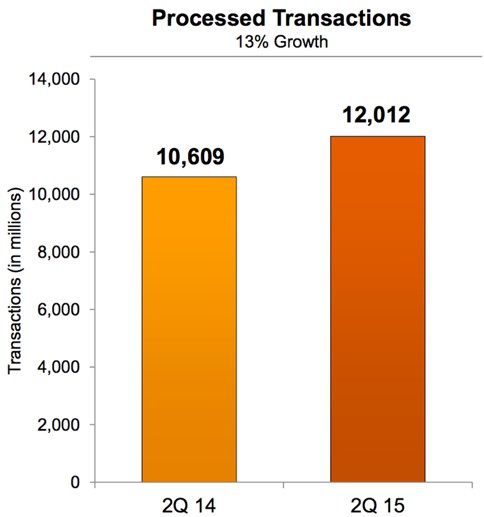 Source: Company's report
Competitors
MasterCard, Visa, and American Express are all very similar to each other when comparing credit card companies. Each of them offers different benefits, such as fraud protection, rental car insurance, and other perks. Essentially, it comes down to personal preference as they all offer very similar perks. Visa also offers a digital wallet called Visa Checkout, which is similar to MasterPass. American Express is the only one of the three to not offer a digital wallet program. And abroad it's no competitor to the other 2 companies.
Risks
This industry is very narrow, therefore each move of the competitors will contribute to a major shift in the market. And a decline in the economy could potentially lower the number of payment transactions, or the value of each transaction. This decline in numbers will decrease the amount of revenue generated for the company, since all of their revenue is sourced from the card activity
Conclusion
We recommend to buy the shares of MasterCard as the company will experience a subsequent growth causing the share price go up. We believe that the company has a good potential in the foreign markets (especially China)and new technologies (such as payment via mobile phone).