Cummins: New Cycle Coming Soon
Introduction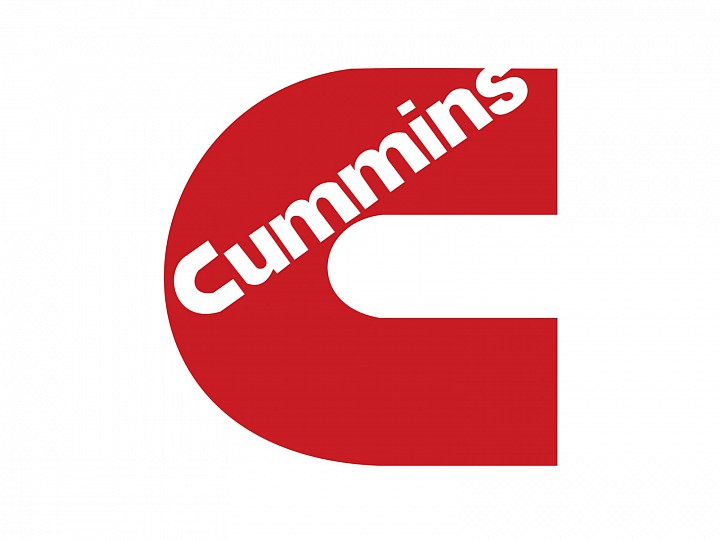 Cummins Inc., incorporated on February 3, 1919, is a global diesel engine manufacturer. The company designs, manufactures, distributes and services diesel and natural gas engines and engine-related component products, including filtration, after treatment, turbochargers, fuel systems, controls systems, air handling systems and electric power generation systems. The company has four operating segments: Engine, Distribution, Components and Power Generation. Cummins sells its products to original equipment manufacturers (OEMs), distributors and other customers. It serves its customers through a network of approximately 600 Company-owned and independent distributor locations and approximately 7,200 dealer locations in more than 190 countries and territories. In addition, engines and engine components are manufactured by the company's joint ventures or independent licensees at its manufacturing plants in the United States, China, India, South Korea, Mexico and Sweden. Its subsidiaries include Cummins India Ltd. and Wuxi Cummins Turbo Technologies Co. Ltd.
Performance
According to our estimations, Cummins is a very attractive company in the industry. Its multiples are below the industry average. Judging by the P/E ratio, the company is being traded ⅓ of the price, while P/B being 20% lower than the industry average. Moreover, ROA and ROE of the company are 4 times higher relative to the industry average.
Cummins has a strong debt/equity ratio, which proves that the company is stable and has a substantial possibility to finance its activity.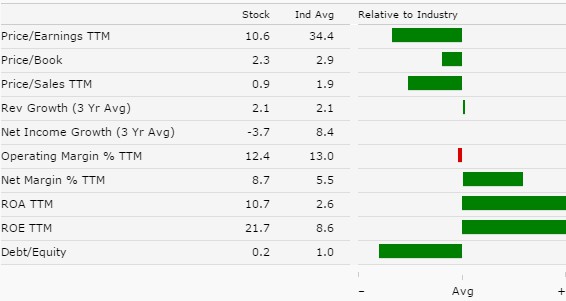 Source: Morningstar.com
Total share return is pleasing for investors (459% against industry's 129% and S&P's 72% over the last 10 years).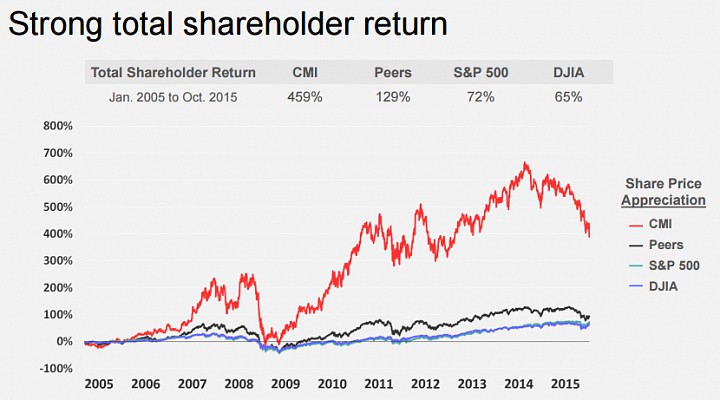 Source: Company's presentation
Having analyzed the Cummins' financials, we concluded that the company had growth during 2012-2014, followed by retardation in the 3rd quarter of 2015, which may very well be explained by the China's slump in demand and diesel scandal begot by VW.
Balance sheet proves our estimates on Cummins' stability: current assets are twice as big as its current liabilities. Stockholders' equity remains nearly unchanged, therefore net income is largely distributed among the stockholders. Cummins has pretty healthy cash flows, which have been increasing over a couple of years.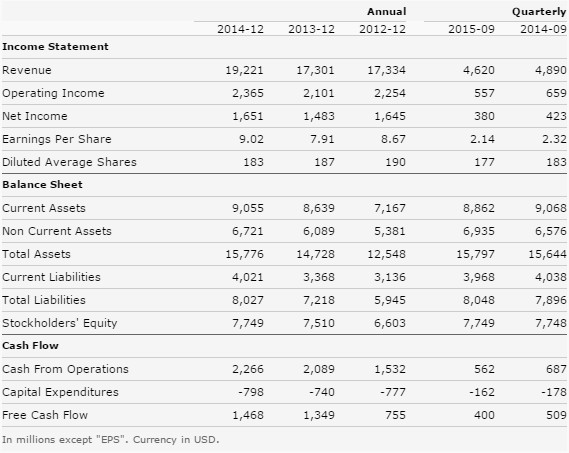 Source: Morningstar.com
The company has been steadily increasing revenues (9% CAGR against 5% one of the industry) and EBIT margin (7% against 1%).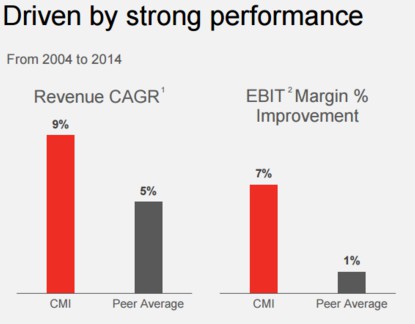 Source: Company's presentation
Trials and tribulations
Although the company's financials look healthy, there is a bunch of difficulties Cummins has to stand against.
The Cummins' revenues are hugely dispersed with such outliers as Brasil, and China, where demand is expected to decline by 50% and 30% respectively due to the pitfalls all the automotive companies have faced: diesel scandal and slowing China's economy.
The main driver that counterbalance the pitfalls is growing US demand.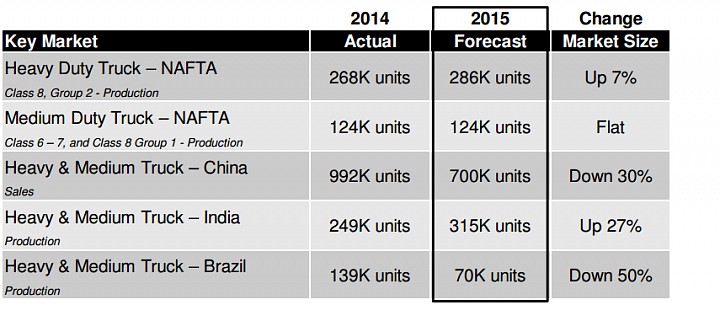 Source: Company's presentation
Heavy-duty truck revenue up 3% from 2014, due to higher demand in North America, partially offset by lower international revenues. Medium-duty truck & bus revenue up 3% due to improvements in global bus markets and stronger North American truck market share. Light-duty automotive down 6% due to the weak Brazilian truck market. Industrial market revenues expected to decline 18% due to weak demand in global commercial marine, construction, and mining markets.
Despite the seeming subversion of the share price, there are several reasons to consider Cummins a forever hold.
In the case of Cummins, the most common concerns seem to be China's demand and diesel scandal. But the latter may suddenly cause a massive run on natural gas engines (escaping from the diesel engines) in the trucks.
Cummins seems to be a forever leader among engine makers in the implementation of technology developed by Westport Innovations that allows the basic design of a diesel engine to be altered to burn natural gas instead of diesel fuel. The truck gas infrastructure is coming along and several large truck stop chains have already expressed their will to install several gas-fuelling stops. Even though the cheap oil makes the gas industry less effective and implementation of this technology has been slower than originally projected, it is likely to continue moving on. It will just move at a slower pace of implementation than originally expected.
It is really not surprising to see some weakness in stock when two of the main revenue sources experience some short-term obstacles. Even if China's growth slows to 3 or 4%, it is going to be a temporary issue and one that simply creates opportunity for those with a longer-time horizon.
We expect that the management's decision to invest in the right technologies and making Cummins' products the most innovative ones will be the right drivers which will cause the share price to rise as well as company's revenues and net income (which already allow to pay solid dividends to the investors)
Cycling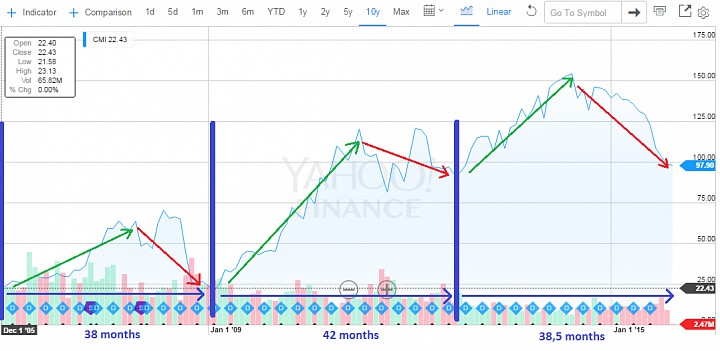 According to our observations, the Cummins' business is rather cyclical and we consider it to be 38-43 months. The last cycle was undermined by the China's slump, yet it's coming to the end. We expect growth to occur during the period of 2-3 months and company's shares will be creeping up on fair price during 20-25 months due to the fact that the shares are at the lowest point of the downside trend. It may be a good moment to pick the stock.
Conclusion
We recommend to buy the shares as they are definitely underpriced, while the company's growing at a faster pace. The growth due to the innovative technologies, coupled with an ending business cycle and strong balance sheet speak for itself.
Disclaimer
We are neither holding, nor planning to open any position. We are merely presenting our opinion, intended to be used in the WhoTrades Investment Strategy Contest.