Nomad Foods: A European Sub-Zero Goes Public
Introduction
Nomad Foods filed for an IPO with an offer amount over $1.6 billion, proposing roughly 12$ per share.

Nomad Foods (NF) is one of the leading manufacturers and distributors of branded frozen foods in Western Europe based on net sales value. The products are sold primarily through large grocery retailers under the brand ¨Birds Eye¨ in the United Kingdom and Ireland, ¨Iglo¨ in Germany and Continental Europe, and ¨Findus¨ in Italy and San Marino. In 2014, Nomad Foods had a 25% average market share for the main product lines in the United Kingdom, Germany and Italy.
Competitors
The frozen food market in Western Europe is highly fragmented, with the top ten branded participants accounting for approximately 1/3 of the total frozen food market, based on Euromonitor data. In addition, it is mainly served by single market or single category market participants. Global food producers have a very tiny portion in the frozen food industry in Western Europe than in other food categories, which, in our opinion, strengthen NF positions. The main competitors include the Findus Group (European arm of which was bought by Nomad Foods in August of 2015 for $700 million), Dr. Oetker, Nestlé and McCain.
Western European Frozen Food Market Share (based on retail sales value 2014)

As we can see from the chart, Nomad Foods has leading market shares across Europe. In 2014, the market share of private label products in main categories equaled 54%, 63% and 32% in the United Kingdom, Germany and Italy, respectively, while the market share of own company's products in main categories equaled 29%, 19% and 31% in the United Kingdom, Germany and Italy, respectively. On a category level in Western Europe, NF maintains a market leadership position among the branded frozen food producers within the main product categories. The majority of the company's competitors are focused either on one market, one product category or one distribution channel. As we've already mentioned,for the year ended December 31, 2014, NF had an average market share of approximately 25% by retail sales value (according tothe AC Neilsen and IRI data). Another market research study showed that spontaneous brand awareness for Nomad Foods products in the UK, Germany and Italy were 87%, 78%, and 93%. That said, NF is the industry leader as in terms of market share as in terms of brand recognition.
Market research
Market depth
The biggest frozen food market is located in Europe, amounting to $52 billion. If we make a sectional breakdown, we can see that the company operates in the biggest market and has a theoretical growth potential of $73 billion (considering US and other frozen markets).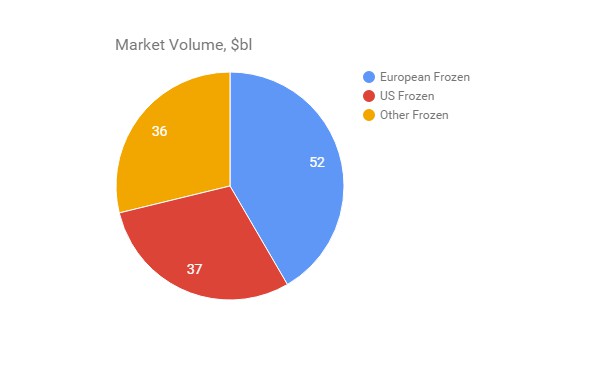 Nomad Foods is the leading company in the main markets of Western Europe - Germany ($6,6 billion), UK ($6 billion), Italy ($2,9 billion). However, the company is losing ground in the market of France, which is the 3rd by volume. Also, despite operating in the majority of the European markets, Nomad Foods is not represented at least in the half of the markets but they can cover these markets in future, considering the acquisition of Findus Group
Western European Frozen Food Market Size by Country (2014)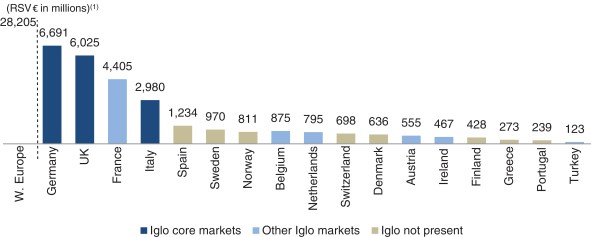 As we can see from the chart, the biggest segment in the market of frozen food are fish. Nomad Food produces 95kT of frozen fish per year. The most enticing growth is showed by the pizza segment, which grew at a CAGR of 3.09% during 2008-2014. However, we doubt that the markets will grow at such tempo in future as customers are becoming more and more health-conscious. Inversely, we believe that in close future fish and poultry will show better growth due to changing consumer preference from high-fat red meat to low-fat fish and poultry.
Western European Frozen Food Market (Size by Retail Sales Value and Growth) by Category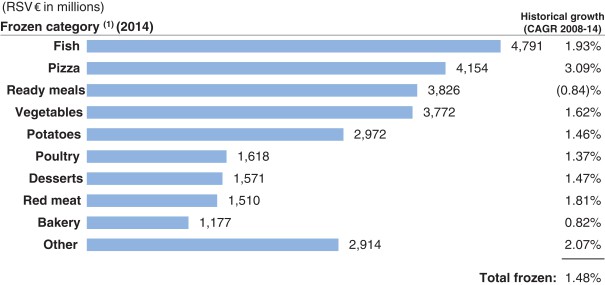 Market projections
The world frozen food market is expected to grow at a CAGR of 4.1% during 2015 2020. The growth of the frozen food market would primarily be driven by the growing demand and consumption of frozen foods in the developing markets such as India, China, and other Asian countries. Increase in disposable income coupled with change in lifestyle and food habits are major factors boosting the market growth in these regions. Moreover, rapidly increasing number of large retail chains including hypermarkets and supermarkets has bolstered the demand of frozen food in developing Asian countries. However, lack of proper refrigeration facility in retail stores and inadequate distribution facility in semi-urban and rural areas are the major challenges for the industry in developing markets. The developed markets would continue to grow at a moderate pace, majorly driven by the increasing consumers preference for healthy frozen foods. So, we believe that entering the emerging Asian markets would be a rational move.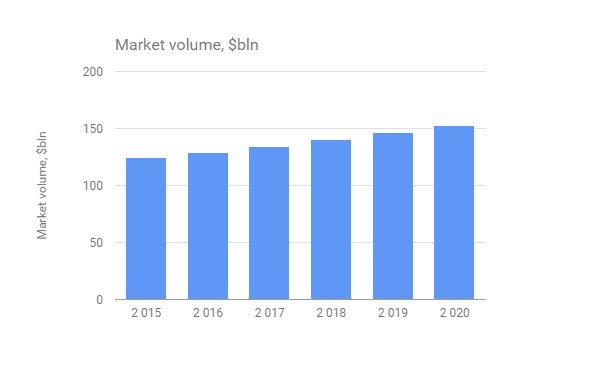 Market trends
The following trends in consumer preferences affect and will continue to affect the frozen food market
Speed and Ease of Preparation. The time available for home meal preparation has been reduced due to increasingly busy lifestyles, longer working hours, and increased numbers of households where the primary caregiver also works outside the house. Frozen food addresses the need for speed and ease of food preparation by being readily available when needed and easy to keep. It also has a comparatively long shelf life, thereby minimizing shopping frequency.
Natural Products. Freezing is a natural preservative, reducing the need for artificial additives and preservatives. Natural ingredients, as well as trust and transparency with respect to ingredients, are becoming increasingly relevant to modern consumers, as evidenced by the popularity of labels such as "natural", "free range", "organic" and "additive free". Freezing processes enable nutrients and vitamins to be locked in prior to transportation, providing nutritional delivery on a par with, or better than, fresh or chilled food products.
Sustainability. Growing concerns around security of food supply, as well as a major focus on the environmental impact of food production, have led consumers to increase their demands for sustainably sourced and produced food.
Health and Wellness. Consumers are increasingly focused on health and wellness, and increasingly desire a balanced and nutritious diet. Our largest product categories (by sales) are generally recognized as "good for you" categories and are an integral part of a healthy balanced diet. For example, fish is high in Omega 3 and low in fat, calories and cholesterol. Vegetables provide essential vitamins for a healthy diet, as is evidenced by programs initiated by various governmental organizations across the EU encouraging vegetable consumption. Poultry is rich in protein, a good source of vitamin B3, and lower in saturated fats than beef and pork.
Minimizing Waste. Frozen food minimizes waste at all points in the supply chain. For instance, retailers can keep frozen food on their shelves for relatively long periods, which helps optimize their supply requirements and prevents the waste of food not immediately sold, which is a challenge in fresh and chilled categories. In addition, consumers can easily portion frozen food and keep food stored that they do not immediately require, which results in less food waste.
Product Innovation. Innovation is key to success in the branded frozen food market. Producers must continually introduce product innovations. These may include the introduction of completely new products, roll outs of existing products in new markets, re-launches of existing product ranges or extensions to existing product lines. Innovations enable branded frozen food producers to introduce higher value and higher margin product mixes, and also to maintain an ongoing level of "newness" in the category. In addition, continuous innovation is important to stay ahead of private label competition, which generally competes on price and less on product novelty, and to offset pressures from trade terms and raw material price inflation.
Financials
The company has cash. Nomad Foods should not have any problems covering their short-term obligations, especially considering that their cash and cash equivalents exceeded their total current liabilities ending September 30. The quick ratio is 0,7 and the cash ratio is 0,5 which proves that the company can cover current liabilities. There is some long-term debt on the books which is cutting into them turning a positive net margin, however they are well positioned enough to pay down that debt to a more manageable level.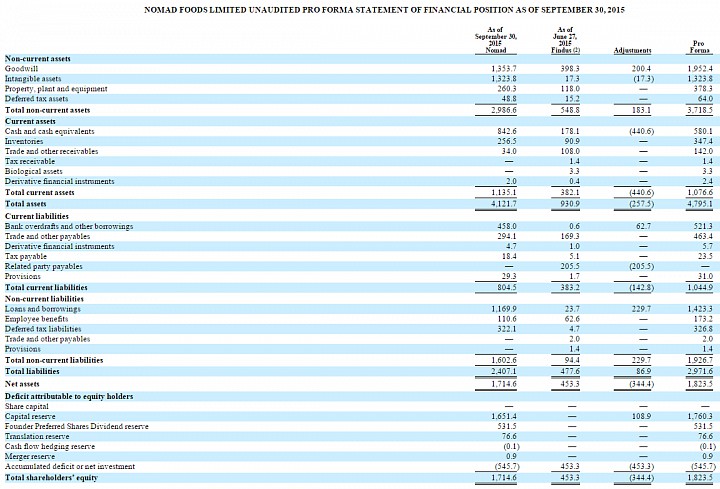 The company's revenue is at the level of 2014. Servicing of preferred shares undertook substantial increase (payments over the last 9 month equaled $0,5 billion). Such substantial payments are primarily explained by the recent acquisitions.

In the short-term, acquisitions affect negatively the income statement but in the long-run the synergy will have positive impact on the company's books.
Growth opportunities
The company has yet to grow and there are opportunities for the growth. Strategic acquisitions will help the company grow and spread itself into newer geographic markets, while expanding outside of just the frozen food category will help them capture a bigger piece of the sector. It's the main Nomad's business strategy and they don't want to slow it down.
As the company's CFO said, the company wants to buy neglected frozen food brands on the cheap and breathe new life into them
He said Nomad is looking to buy a U.S. company that has a strong management team, which would help it make more acquisitions. In June, Nomad closed on its $2.88 billion purchase of Iglo Foods Holdings Ltd, which sells Birds Eye brand frozen vegetables in Europe and Findus branded frozen fish in Italy. Nomad announced on Aug. 13, 2015 that it is buying Findus Group Ltd for 500 million pounds sterling ($781.6 million). After the acquisition, the frozen food market share of the newly formed company will be roughly 14%, which is 2,5 times as much as the closest competitor.
Market share in Western Europe frozen food market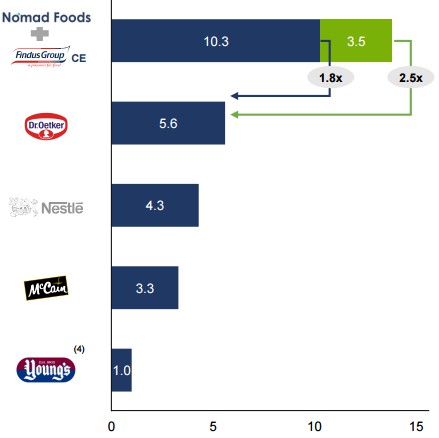 Also, the acquisition will allow the new company to operate in all of the biggest countries in Western Europe. That being said, NF will operate in the markets of Spain, Norway, Sweden, Finland (the market volume is $3,5 billion)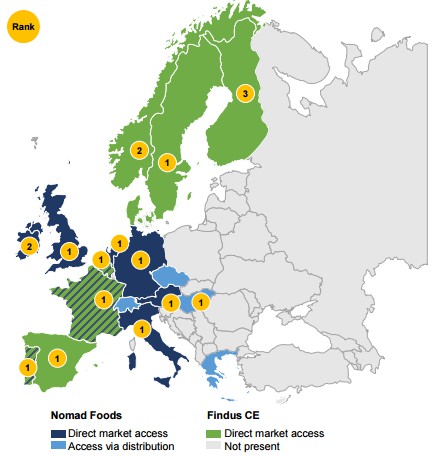 This strategy will bring not only an access to the new markets but also an effect of synergy. The effect will constitute roughly 10% of EBITDA due to the transfer of technologies, business processes and relationship with customers. Generally, EBITDA of the newly formed company will exceed $400 million.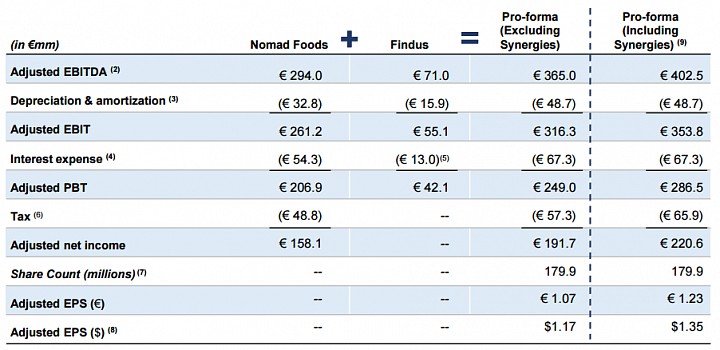 Management
A big company cannot operate successfully without experienced management.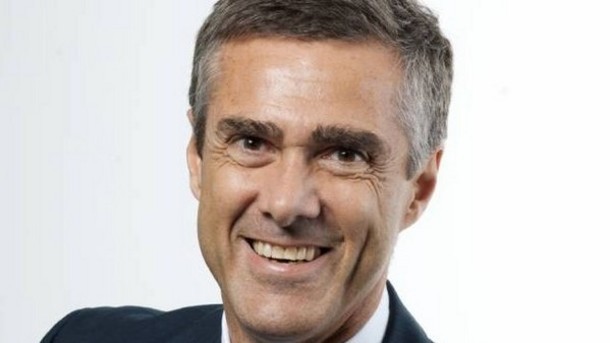 Stéfan Descheemaeker - CEO
At the moment, the CEO of the company is Stéfan Descheemaeker, who started his career with Cobepa, at that time the Benelux investment company of BNP-Paribas. He later joined the holding company Defi as CEO of its financial subsidiary Definance, of which he led the IPO process. During this period, he built strong investment, financial and tax expertise. In 1996, he joined the Belgian brewer where he became head of Strategy & External Growth, managing its M&A operations, culminating with the merger of Interbrew and AmBev in 2004. At that point in time, he transitioned to operational management, successfully in charge of respectively the brewer's operations in the U.S. and Mexico, Central and Eastern Europe, and, eventually, Western Europe. In 2008, Stéfan Descheemaeker ended his operational responsibilities at Anheuser-Busch InBev and joined the company's Board as non-executive director. He served as the Chief Executive Officer at Delhaize Europe from January 1, 2012 to October 31, 2013 and served as its Executive Vice President. Mr. Stéfan Descheemaeker has been the Chief Executive Officer of Iglo Foods Group Limited since June 1, 2015. Mr. Descheemaeker has been the Chief Executive Officer at Nomad Foods Limited since June 1, 2015.
We believe that Stéfan Descheemaeker has broad experience in finance, including the IPO processes of other companies. He also has a strong background in food retailing and consumer goods, as well as strategic background in companies, capitalization of which amounts billions of dollars. (Anheuser Busch Inbev SA - market cap 180 bln, Delhaize Group SA - 9 bln).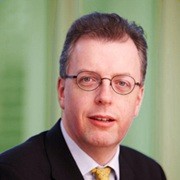 Paul Keynon - CFO
Paul Keynon, the company's CFO, has CIMA certificate and began his career in finance 30 years ago. He worked at MARS during 1990-1997, at Allied Domecq during 1997-2005, at Astra Zeneca (market cap $54 billion) 2005-2012. In 2012 he became the CFO of Iglo Group, which consequently led to the position of the NF CFO.Paul has broad experience in food retailing and 30-year experience in finance, which makes him a perfect person to lead Nomad Foods to the IPO.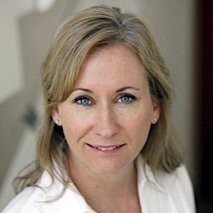 Tania Howarth - COO
Tania Howarth was appointed Chief Operating Officer of Iglo in January 2010. Ms. Howarth joined Iglo in April 2007 and successfully led the separation from Unilever and the creation of a standalone integrated SAP platform. She has held senior positions at prestigious branded goods companies including Coca-Cola, where she served as the Chief Information Officer for Europe, the Middle East and Africa, PepsiCo where she served as Chief Information Officer for the Walkers Snackfood business, Sun Microsystems ICI and PricewaterhouseCoopers.
Risks
1.This isn't first time they're in the public markets. This IPO is just a move to the NYSE. Currently they trade OTC and on the London Stock Exchange under NHL with a market cap of over $2 billion. However. the market is reacts negatively and the stock has been tumbled down almost 50% since July.
2. United Kingdom, Germany and Italy brought 81% of sales in 2014. Problems which may occur in there will lead to a substantial decrease in sales.
3. Deterioration in relations with customers (big retailers) can negatively affect the sales. The retailers may put pressure on the company, demanding discounts, meanwhile one should understand that as is typical in the food industry, sales to the key customers, the large United Kingdom, German and Italian major multiple retailers, are made on a daily demand basis. Nomad Foods generally does not have long-term contractual commitments to supply such customers and must renegotiate supply and pricing terms of the products on a regular basis.
Conclusion
We believe that the company will successfully go public as
NF is the leading frozen food company in the biggest market with growth potential from $52 billion in 2014 to $65-70 billion in 2020.
The world frozen food market shows growth and will exceed $150 billion in 2020, compared to the current market of $120 billion. Annual growth rate will be 4-5%.
The company has solid financials and current assets to cover short-term obligations. The quick ratio is 0,7 and the cash ratio is 0,5 which proves that the company can cover current liabilities.
NF successfully acquired Findus Group which will allow it to increase its market share up to 14% in Western Europe, enter new markets and transfer new technologies. The synergy effect amounts to 10% of current adjusted EBITDA.
The top management has broad experience and competence in the food industry. Working in multibillion cap companies, the CEO and CFO have experience of pre-IPO structuring in the food industry companies.
Obviously, there are risk associated with the stock and company (deterioration of relations with customers, slowdown in the main markets), but one should remember that the company constantly works under these conditions and battle. Threats are posed by the reactions of investors in the OTC and LSE, but we believe that the new strategy of acquiring companies and new management will help the company to show stability.
The IPO will be conducted at the beginning of January, 2016. The offering price will be 12$ per share. We believe that the stock will show moderate growth and by the end of 2016 the stock price will not be lower than the initial price.